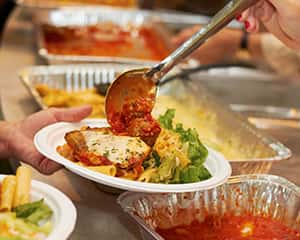 Unforgettable New York Pizza, Pasta, and Salad Catering
Unforgettable New York Pizza, Pasta, and Salad Catering: A True Delight for Your Events
Introduction:
When it comes to catering for special occasions or corporate events, finding the perfect combination of delicious and diverse dishes can be a challenge. But fear not, as New York Pizza, Pasta, and Salad Catering is here to elevate your event with mouthwatering options that are sure to please even the most discerning palates. In this blog post, we will delve into the world of New York-style cuisine and explore why it's the ideal choice for your next catering experience.
1. The Iconic New York Pizza:
New York is renowned for its iconic pizza, and it has rightfully earned its place as a global culinary symbol. From the thin, crispy crust to the perfect blend of cheese, sauce, and toppings, New York-style pizza offers an unparalleled taste experience. Imagine treating your guests to a variety of classic options like Margherita, Pepperoni, or the beloved New York Cheese Pizza. With their authentic flavors and satisfying textures, New York pizzas are sure to leave a lasting impression.
2. Delectable Pasta Creations:
No catering menu is complete without an array of pasta dishes, and New York Pasta Catering delivers on this front as well. From the classic Spaghetti to the luxurious Fettuccine Alfredo, every pasta lover will find something to satisfy their cravings. The al dente pasta cooked to perfection and combined with rich sauces and delectable ingredients create a symphony of flavors that will transport your guests straight to the bustling streets of Little Italy.
3. Fresh and Vibrant Salad Selections:
To add a refreshing touch to your event, New York Salad Catering offers an extensive range of crisp, fresh, and vibrant salad options. From the timeless Caesar Salad to the colorful Greek Salad or the tried and true Tossed Salad, there's a salad to please every taste. These refreshing dishes not only provide a healthy option but also act as a perfect complement to the rich and savory flavors of New York-style cuisine.
4. Customizable Catering Packages:
New York Pizza, Pasta, and Salad Catering understand that every event has unique requirements. That's why they offer customizable catering packages to ensure your specific needs are met. Whether you're hosting an intimate gathering or a large corporate event, their professional team will work closely with you to design a menu that suits your preferences and budget. From appetizers and main courses to desserts, they have you covered.
5. Convenience and Professional Service:
Planning an event can be stressful, but New York Pizza, Pasta, and Salad Catering strive to make the catering process smooth and hassle-free. With their expertise and commitment to customer satisfaction, they will take care of every detail, from food preparation to delivery. Their professional staff ensures that your guests are well taken care of, leaving you to enjoy the event without any worries.
Conclusion:
New York Pizza, Pasta, and Salad Catering provide a delightful experience that captures the essence of the Big Apple's culinary scene. Their diverse menu options, ranging from mouthwatering pizzas to delectable pasta dishes and refreshing salads, ensure that there's something for everyone. With customizable catering packages and impeccable service, they elevate any event to a memorable and enjoyable experience. So, why settle for ordinary catering when you can treat your guests to the extraordinary flavors of New York?